New clinic location!
Spring is here, the trees and flowers are in full bloom and we have moved into the creative hub that is the Edinburgh Palette!
We are excited to be within a building buzzing with artistic and creative folk and full of inspiring small businesses. We hope you will enjoy exploring what the building has to offer before/after your treatment at the natural health clinic.
Thank you to all you lovely folk for your patience as things have been busy for us during our move and we are very grateful for your continuing support! We are already feeling settled in our new clinic space and look forward to working together with you soon!
Sue and Paul
"In life, as in music...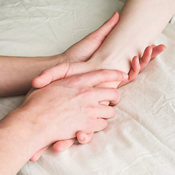 ...the rests are as important as the notes."
APPOINTMENTS
We welcome you to call us to make an appointment - please do leave us your full name and number as we may be consulting at the time of your enquiry. We currently offer appointments Monday-Friday and will endeaver to return your calls/messages at our earliest opportunity during working hours.
We are happy to chat to you if you are unsure which of our treatments might suit you best. Give Sue a call for advice on:
077 468 900 48
When you arrive for your appointment, to access the Edinburgh Palette building, please enter the code you were given when you booked your appointment. Please make your way up to the natural health clinic in Studio 231, in the West Wing, on the 2nd floor, and take a seat in our lovely waiting room. Your practitioner will find you there at your allocated appointment time.
We have updated our Data Policy and have added this to our website for you to read (by clicking on 'your data' link above) at your leisure!