Caring for ourselves and others
Such a time of change - it can be challenging to keep up!
What a lovely opportunity to reflect on changes that we would like to make to support our own health. In caring for ourselves, we are best placed to care for those who we love too. The gift that keeps on giving!
We are continuing to study the research on Coronaviruses and those of you who we see regularly will already be aware of the guidelines we follow. For those new to us, here's some information we hope will reassure you:
The government regulations require us to screen all clients before booking, and we ask you to please refer to the NHS website HERE to identify if you are in the "extremely clinically vulnerable" category before you get in touch. This will enable us to discuss whether treatment is appropriate at the time of your booking or if we require consent from your medical professional. During this phone-call, we will also ask you some questions specifically about Covid-19.
Keeping us all safe:
Face masks worn by practitioners and clients visiting us at the clinic.
Additional cleaning and hygiene procedures and more frequent hand-washing/sanitizing.
2M distancing observed in the main building, waiting room and where possible
We look forward to seeing you soon!
Sue and Paul
"In life, as in music...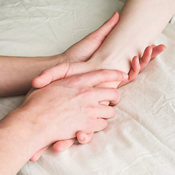 ...the rests are as important as the notes."
Please call to cancel/reschedule if you have any symptoms of Covid-19, feel unwell or if a member of your household is self-isolating. (Symptoms may include a high temperature, a new continuous cough and a loss/change to your sense of taste or smell).
APPOINTMENTS
At your appointment, please bring with you:
- Face mask (to wear before entering and during your visit to the clinic).
- Your own pen (to sign into/out of building and for signing our Covid-19 screening questionnaire).
- Water bottle (for your own refreshment).
Please note that many businesses are required to partake in the NHS Inform Contact Tracing in Scotland and by booking an appointment you are consenting for your details to be shared with NHS Inform 'Test and Protect' should this become necessary.
We welcome you to call us to make an appointment - please do leave us your name (including surname) and number as we may be consulting at the time of your enquiry. We currently offer appointments Monday-Friday and will endeavour to return your calls/messages at our earliest opportunity during working hours.
When you arrive for your appointment, to access the Edinburgh Palette building, please enter the code you were given when you booked your appointment. Please make your way up to the natural health clinic in Studio 231, in the West Wing, on the 2nd floor, and take a seat in our lovely waiting room. Your practitioner will find you there at your allocated appointment time.
Check out our Contact Us page for more help on finding us.
We have a Data Policy, click Your Data to read at your leisure!