Edinburgh in Autumn
Are you already preparing for the cooler months and that sense of internalising that accompanies the shorter days? This is a time when many struggle to maintain energy levels and positive outlook. We encourage you to use the Autumn months to reflect. Using a long slow, contented exhale can be a useful practice for letting go of tensions, worries and frustrations.
The Trees Were Speaking Today...
...and all of a sudden Autumn has begun the long contented exhalation of harvest. There are many who resist the longer shadows and see it only as the harbringer of winter, but such thoughts have no place in the minds of those who know the secrets in the forest.
The trees were speaking today. They asked "What are you holding on to?" "What are you holding on for?"
P.Reynolds BAcC
"In life, as in music...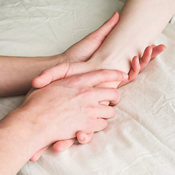 ...the rests are as important as the notes."
APPOINTMENTS
We welcome you to call us to make an appointment - please do leave us your full name and number as we may be consulting at the time of your enquiry. We currently offer appointments Monday-Friday and will endeaver to return your calls/messages at our earliest opportunity during working hours.
We are happy to chat to you if you are unsure which of our treatments might suit you best. Give Sue a call for advice on:
077 468 900 48
When you arrive for your appointment, please enter the code you were given when you booked your appointment and simply take a seat in the waiting room. Your practitioner will find you there at your allocated appointment time. We look forward to welcoming you to our lovely clinic at:
1 Kirkwood Place, Edinburgh EH7 5TG
We have updated our Data Policy and have added this to our website for you to read (by clicking on 'your data' link above) at your leisure!